Situated on a hill at the foot of the village of Cairo, nearby Mombaroccio, "Casa Cairo " is a building of the early '900, originally built in stone and then plastered.
It's a typical accommodation facility at the time, with full distribution unit real estate from the ground floor to the first floor, open on three sides, and accompanied a large back yard. It has two entrances, one for reception, and the second service.
The structure includes: at the floor ground the breakfast room, a fully equipped kitchen with fireplace for the preparation of food (on demand), the single room " Smart " with exclusive bathroom, and a small room used as a reception and relax corner.
Upstairs you find the room "Romance"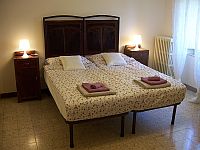 with double bed (or 2 singles, on demand),
and the room "Family"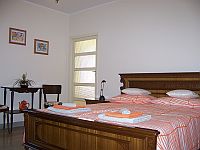 with double bed,
to which is attached the room "Baby",
single bed.
At the same level we find the shared bathroom,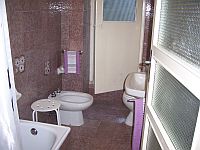 which leads to a wide terrace / solarium 6 sqm wide.
On the back of the house a small garden where you can relax and sunbathe.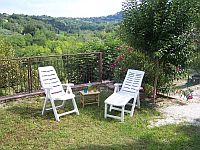 Parking free (check if available). Last but not least is to report the outdoor box as a shelter for bicycles, always placed at the back of the house.
Whole structure is strictly NON-SMOKING.